Chapter 9 Temples and Churches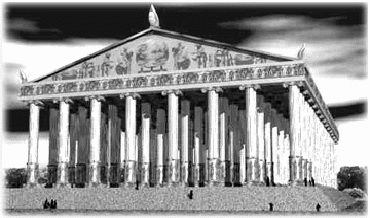 Part 1 The Church
And Jesus answered and said unto him, Blessed art thou, Simon Barjona: for flesh and blood hath not revealed [it] unto thee, but my Father which is in heaven. And I say also unto thee, That thou art Peter, and upon this rock I will build my church; and the gates of hell shall not prevail against it. Matthew 16:17-18
When Jesus gave Simon the keys to the Kingdom, He was giving them to all of us. Simon became Peter, the Rock, because he answered Christ by faith. Simon listened to the revealed word of God in his own heart and mind and acted upon that revelation. With that answer, Simon took his first step in his walk with God's holy spirit in the kingdom of Heaven.
Because he responded to that revelation with the Spirit of Faith, he had begun to move, not by flesh and blood alone, not by his own knowledge of good and evil, but by the wisdom of God written in his own heart and mind. Faith is that rock.
And I will give unto thee the keys of the kingdom of heaven: and whatsoever thou shalt bind on earth shall be bound in heaven: and whatsoever thou shalt loose on earth shall be loosed in heaven. Matthew 16:19
Jesus revealed to us that the keys to the kingdom are whatever you bind or loose on earth is bound and loosed in heaven. God had told us not to make covenants, leagues, or agreements with those who are not our brothers in Him. We are warned about striking hands, applying for benefits, and eating the deceitful meats of rulers. Christ did the same with His stand on prayer or application, the benefits of Corban, making a man on earth our father, and his bar against the taking of oaths of any kind repeated by James. Paul says that, if we can be free, choose it rather and that he would not be bound under the authority of any. To follow the path and precepts laid down by God, Christ, and the Apostles is key to seeking the Kingdom of Heaven.
Jesus preached a Kingdom to which He was Servant-King and told us to preach the same. He appointed His Apostles a Kingdom to serve as the Father had appointed unto Him. What is the Church appointed by Christ?
In the King James Bible, we see the word "Church" translated from the Greek word ekklesia, defined "an assembly called out". It is composed of two words that individually mean "called" and "out", but together they take on a new sense of oneness out of many.
Some say the word means an "assembly", but an ekklesia, literally translated "called out", is more specific. The words agora, paneguris, trugao, sustrepho, sullego, sunathroizo, ochlopoieo, sumbibazo, sunagoge, episunagoge, sunago episunago, heorte, koinon, and thiasos all mean or include the concept of an "assembly" with a slightly or drastically different meaning or inference.
An ekklesia is not just any assembly, but it is, "the lawful assembly in a free Greek city of all those possessed of the rights of citizenship, for the transaction of public affairs" Ekklesia was a political term, not a religious term. In classical Greek, ekklesia meant "an assembly of citizens summoned by the crier, the legislative assembly." The princes of Israel were originally composed of the elders of each family group. Their power or authority was not collective or democratic, but individual and consensual. If they decided something, it was done by accord and not by vote of the majority over the minority.
In Acts 7:38, there is reference to "the church in the wilderness". The people were called out of bondage of Egyptian government and the Levites were called out of the walled camp to be ministers of Israel, God's kingdom. The Apostles were called out to be bondservants of Christ the King, in service of His appointed Kingdom. Peter was to maintain an entrance to that Kingdom, ministering to it under the perfect law of liberty. Jesus came to set at liberty them that are bruised. His ministers have no less a task.
All of this is no different than Abraham being called out of Ur and Haran or the distinction made between those who followed the ways of Cain and his city-state and those who walked with God as free souls upon the earth.
"Are men the property of the state? Or are they free souls under God?
This same battle continues throughout the world?"
We were all called out of sin. What sins? Is it the sins of bowing down and serving other gods in the shape of men or their man made institutions? Is it the sins of coveting and even taking by force from our neighbor under the license of civil government? Is it the sin of ruling over our neighbor, even democratically? Is it the sins of oppression, injuring, and even killing the innocent strangers under the excuse of self-defense or the assumption of superiority or national self-righteousness?
The word "sin" is from the Greek hamartia and hamartano, which can be defined in the Greek as "to be without a share in". It does have a relation with being off the path or mark, but it specifically means without a share in the inheritance of Kingdom of God.
"Grace" is from the Greek word charis, which means "a given benefit". If you sin, you have no share in the benefit, for you have left the path. Grace is never owed or earned, but it is the granted gift. Sin is related to usurping God. It is deciding, for yourself, what is good and evil, judging others, compelling charity, and failing to forgive so that we may be forgiven.
Jesus lived and died that we might be saved. He has done his part and has stood aside so that we may learn to do our part in salvation. We are not saved simply because He died, but also because we repent.
Where we haven't forgiven, we must now forgive. Where we did not obey, we must now seek to obey. Where we departed from the path, we must now make straight the way of the LORD that we might receive the benefit of His grace. If we do not do these things that Jesus says, then our faith in Him is a lie. Our relationship with men and their institutions is often a sign of where our hearts are and who is writing upon our hearts and minds.
Order alone is not the purpose of godly government, but a strengthening of the character of all, in bonds of love and charity. We must open our hearts and our hands to the ways of the Lord and not merely wave them in churches on Sundays. Sodom was destroyed because it failed to strengthen the poor in the midst of its affluence.
This is why God has called men out of the affluence of the world: in hopes that they will be strengthened and that they, in turn, will strengthen others in the ways of God. The Levites were called out to strengthen the people in a free nation and that nation was to be a priest to all nations. This is God's purpose for His kingdom and the Church that serves it.
Jesus called and appointed men to follow Him in service of His Kingdom. These were the men He called out and appointed to the Kingdom. These were the men He prayed could live in the world, but not be a part of it, as they ministered and taught His ways of freedom and love. These servants belonged to Jesus, but were as brothers. The Levites before them also belonged to God and were servants of the congregations of the people.
When Jesus called out His disciples to teach them to serve the Kingdom, He also applied restrictions upon them, limiting their office. This was done under remarkably similar conditions as Moses had done centuries before.