Not forsaking the gathering together

Recent " Dear Network" messages.
[Message # 67 on Participation and Mysteries of the Kingdom]

Dear Network

Everyone on the Network should be a member of the Kingdom Newsletter.Last night I sent out the article Apathy is the Ally of Tyranny in which I quoted Albert Einstein who said "The world is a dangerous place to live; not because of the people who are evil, but because of the people who don't do anything about it."

If you did not get it then you should subscribe.

http://www.hisholychurch.org/stones.html

Christ wants you safe and secure but Christ gave us something to do and we need to do it to receive His blessings.

I am not saying you will be saved by your works but by turning around and going toward the kingdom that you should be seeking and by striving to enter at the straight gate.
Matthew 6:15 "But if ye forgive not men their trespasses, neither will your Father forgive your trespasses."

Matthew 18:35 "So likewise shall my heavenly Father do also unto you, if ye from your hearts forgive not every one his brother their trespasses."

Mark 11:26 "But if ye do not forgive, neither will your Father which is in heaven forgive your trespasses."

Luke 6:37 "Judge not, and ye shall not be judged: condemn not, and ye shall not be condemned: forgive, and ye shall be forgiven:"

John 3:17 "For God sent not his Son into the world to condemn the world; but that the world through him might be saved."
Just as we need to forgive that we might be forgiven, we also need to save and provide for others so that we may be saved and provided for also.
If we are to love we must love others. This is because as you judge so shall ye be judged.
It is vertue in every man and women that must bind us together.
Salvation is by grace but if you will not do what Christ did and said to do then why tell anyone that you love Him.
If ye love me, keep my commandments.... Jesus answered and said unto him, If a man love me, he will keep my words: and my Father will love him, and we will come unto him, and make our abode with him.... If ye keep my commandments, ye shall abide in my love; even as I have kept my Father's commandments, and abide in his love." John 14:15 ...23...15:10
We are not builing a network woven by the spirit of rebellion but one of love, service and sacrifice.
The virtue of Christ is our armor and shield and His love and service to us passed on to one another is our weapon.
Gregory
This has been Message # 67.3
Dear Network
This electronic network is a tool that we may use to build a Living Network of people who care about each other as much as they care about themselves.
We have an opportunity to reach out and touch someone with the virtue of Christ.
Mark 5:30 And Jesus, immediately knowing in himself that virtue had gone out of him, turned him about in the press, and said, Who touched my clothes?
We are not building a network woven by the spirit of rebellion but one of love, service and sacrifice.
Most of the modern Churches have not been doing what Christ said.
They have actually been doing the opposite. They are practicing impure religion.
http://www.hisholychurch.org/news/articles/religion.php
And their Churches and pastors are a major part of the problem. Jeremiah 2:8
While the "voice of the people" sing in their churches praises to God on the weekend the rest of the week they reject God in the other institutions they create.
http://www.hisholychurch.org/news/articles/voice.php
The people have gone back into the bondage of Egypt in Spirit and in truth.
God told us never to return to Egypt.
Deuteronomy 17:16
People in almost every nation of the world are under a corvee system of statutory labor that gave Egypt its identity.
http://www.hisholychurch.org/study/gods/cog4eve.php
Modern Christianity has forsaken these words and literally rejected God.
No other conclusion can be made if we read 1 Samuel 8:8 through 10:19.
All the curse that come with that rejection of God and return to Egypt are law in the United States and most countries today.
http://www.hisholychurch.org/sermon/corban.php
The commandments say to "make no covenants with them nor with their gods".
http://www.hisholychurch.org/sermon/godsmany.php
John the Baptist said that if there is a need amongst you then share though mutual charity.
Jesus said to pray to the Father in Heaven and not to the fathers of the earth.
http://www.hisholychurch.org/sermon/fatherabba.php
So how can we say we want Christ as our king when we have made men king over us by our lack of knowledge and covetousness.
Peter said through in 2 Peter 2:3 "...through covetousness shall they with feigned words make merchandise of you: whose judgment now of a long time lingereth not, and their damnation slumbereth not."
We were supposed to be living by love and not oppressing those amongst us nor desiring benefits at their expense but we have followed another way.
The modern churches say it is okay to pray/apply to the Caesars of the world for what you need even though we know they just say they are benefactors but in truth exercise authority one over the other.
The Modern Churches sends you to apply to those men who Jesus said we were not to be like.
On the this Network we are not trying to create an email group but a Living Network of people helping and working with one another because of mutual love.
Many of the people who responded to the challenge of participating in this electronic network were actually participators already.
It is the people who never respond nor reach out to the rest of the group that we need to encourage or even provoke one another to put our love into action.
"And let us consider one another to provoke unto love and to good works:" Hebrews 10:24
If Christ is your king or you want him to be then you seek the kingdom, which means coming together.
Several people signed off the groups in the last few days. Did any one know them or why they left.
Others will sign on and some will become participators. They will reach out.
How many people died on this network last night? Or went to the hospital? How would we know?
2 Peter 1:5 "And beside this, giving all diligence, add to your faith virtue; and to virtue knowledge; And to knowledge temperance; and to temperance patience; and to patience godliness; And to godliness brotherly kindness; and to brotherly kindness charity. For if these things be in you, and abound, they make you that ye shall neither be barren nor unfruitful in the knowledge of our Lord Jesus Christ. But he that lacketh these things is blind, and cannot see afar off, and hath forgotten that he was purged from his old sins."



Christ told us in many ways that "Participation is required ". He called us to gather, be doers, to strive, keep commandments of loving one another.
Watching emails does not get that done.
Many of the people on the Living Network are far a part but that is really only because we have not found all the people who are or wish to be seeking the kingdom of God and His righteousness.
The kingdom of God was the right to be ruled by God. It was only for the diligence souls who sought the righteousness of God, who loved God and loved their neighbor as themselves.
By the nature of these precept Christians loved one another, Christian congregations loved other Christian congregations as much as they loved the people in their own group. Distance, nationality, race made no difference to them.
In the hard times as Rome declined under a corrupt and oppressive government Christians not only survived but prospered as a people because Christians had learned the "mysteries of the kingdom of God".
"And he said, Unto you it is given to know the mysteries of the kingdom of God: but to others in parables; that seeing they might not see, and hearing they might not understand." Luke 8:10, Matthew 13:11, Mark 4:11
So, what are those mysteries of the Kingdom of God?
They are in the Biblical text but often between the lines and in the context of the word as it was spoke and written.
Can there be any doubt that we have strayed?
What is the way back and how is that translated in this modern world?
This has been Network message# 67.4
Dear Network
The modern Church not only does not know that mystery of the kingdom but they have taught the opposite until the people are bound in MYSTERY, BABYLON THE GREAT serving gods many.
gods Many SS Video Series 9-10
http://www.youtube.com/watch?v=Yr1SBMbK5Aw
There are gods many.
Who are these gods many and what is a god?
http://www.hisholychurch.org/sermon/godsmany.php
I have seen it for years where people look for help rather than help others.
We must go the extra mile to find the lost sheep in other areas and not merely in our own. We are tempted to think in terms of "what is the 'Living Network' to me?"
To think "There is no one near me so how can I be benefited by being a member of this network?" is not Christ nor Kingdom-like thinking.
The purpose of this electronic network is to find others near people all over the world. We care about those lost sheep in New Jersey as much as the lost sheep in Oregon because that is the nature of Christ. If we are to do anything in "His Name" we must do everything according to His Character.
Do we want more emails to be sent to the groups? Certainly not, but we want people to reach out, to take steps in the direction of the kingdom and do that in the gathering with others in what ever manner you may do so.
We want to preach the whole Gospel and get that message to more and more people. When they hear us and the message of Christ in what we say we may be able to direct them to the Network so that you can meet with others in your area.
When a child is lost in the wilderness the rescuers form a drag net to comb every inch of the woods in order to find that which is lost.
We have all sinned and lost the character of Christ, the good shepherd.
Who will not leave off what they are doing to help seek others who are lost in the wilderness of deception that has brought the whole world under a strong delusion?
There is something more that everyone can do to help find the lost sheep but if you are not thinking about others outside your local area then you are not thinking kingdom.
"For God so loved the world, that he gave his only begotten Son, that whosoever believeth in him should not perish, but have everlasting life." John 3:16
If you are not actively loving the people of the network and of the world and even your local group as much as you love yourself then you do not know and love the Father as much as you may think.
"Beloved, if God so loved us, we ought also to love one another." 1 John 4:11
We are commanded to love one another as Christ loved us. If we do not then is Christ in us? If we are not in some way actively spreading the Gospel of the kingdom or assisting others in charity to teach and preach that kingdom, then is Christ in us?
"Hereby know we that we dwell in him, and he in us, because he hath given us of his Spirit." 1 John 4:13
If His Spirit dwelleth in us can apathy exist?

Tell others, volunteer to be a contact minister, choose a contact minister, spread the news of the free broadcasts, the books and the websites. Encourage the people on your local groups to get to know each other, find more people...STRIVE.
"Strive to enter in at the strait gate: for many, I say unto you, will seek to enter in, and shall not be able." Luke 13:24
This has been message # 67.5
The Living Network Links
You cannot love your neighbor in truth if you do not know who he is.
Join the Living Network and become a part of the solution
http://www.hisholychurch.org/network/localnet.php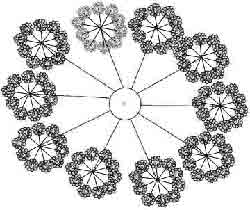 Living Network Index page:
http://www.hisholychurch.org/network/index.php
Find and JOIN your Local Living Network
The American States and Canada
http://www.hisholychurch.org/network/localnet.php
Find a local group World Map Locator:
Find a local Living Network Group around the world
http://www.hisholychurch.org/network/maplocator.php
Mapping the Network
A project of the chosen Contact Ministers
http://www.hisholychurch.org/network/networkmap.php
Guidelines and Purpose
The Living Network groups.
http://www.hisholychurch.org/network/purpose.php
Dear Network Messages
Some messages to the Living Network groups.
http://www.hisholychurch.org/network/dearnetwork.php
Articles on Networking
Fractal Networking
When Jesus was preaching the Kingdom of God at hand He talked about a mustard seed that could grow by faith into a mighty tree providing life and shelter for all who seek its branches.
http://www.hisholychurch.org/network/fractal.php
The Purpose and Guidelines of Local groups
"For where two or three are gathered together in my name, there am I in the midst of them." Matthew 18:20
The purpose of the network is to bring people together to seek the Kingdom of God and His righteousness.
http://www.hisholychurch.org/network/purpose.php
The Audacity of Hope
There are numerous institutions that may be created based on faith, hope and charity that can aid us on the road to the Kingdom and the righteousness of God.
http://www.hisholychurch.org/network/hope.php
Newsletters
The Kingdom News go out over the network through out google groups which us the beginning of the The NetworkThe Living Network which is established by forming the Network of tens on free assemblies.

Seek the liberty which we have in Christ Jesus. [10]